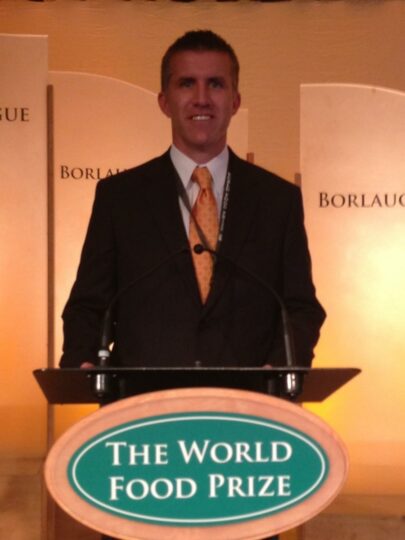 Sioux Falls, SD, October 21, 2013 – Matt Burkhart, Vice President and General Manager for Raven Industries, Inc. Applied Technology Division, spoke last Thursday at the World Food Prize, and event in Des Moines, IA that attracts international attention. 
Mr. Burkhart spoke about global food production and precision agriculture and shared the stage with speakers such as former British Prime Minister Tony Blair and philanthropist Howard Buffet.  "It's an honor to speak to such a distinguished audience," he said.  "It is very humbling to be included in such an amazing event which is often called The Nobel Prize of Agriculture."
The even recognizes people who have increased the quality, quantity or availability of food in the world.  It drew more than 1,000 people. 
About Raven Industries, Inc: Since 1956, Raven Industries has designed and manufactured high quality, high-value technical products.  Raven is publicly traded on NASDAQ (RAVN) and has earned an international reputation for innovation, product quality, high performance, and unmatched service.  Raven's purpose is to solve great challenges in areas of safety, feeding the world, energy independence, and resource preservation.  To realize this purpose, we utilize our strengths in engineering, manufacturing, and technological innovation to serve the precision agriculture, high performance specialty films, aerospace, and electronic manufacturing services markets.  Visit www.RavenInd.com for more information.

Contact Information:
Ryan Molitor
Marketing Manager
Raven Industries
605.335.0179